A new adventure brought us to Collaborate with René mathieu,  "meilleur chef végétal du monde".  We took up his challenge to brew a beer using a mix of wild plants from the area, with the dominant herb being ground Ivy (glechoma hederacea). This herb was used hundreds of years before hops became the go to addition.
Well, him and his team loved it and we are now partners for the beer called "La sauvageonne".

We took our partnership further to design specific plant based recipes to go with some of our other beers.
These include,
Fenouil raisin et oignon mousseline à la bière (LA GRANDE DUCALE)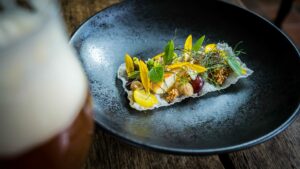 Croquettes de Mais, basilic ketchups à la bière (Revolutioun IPA)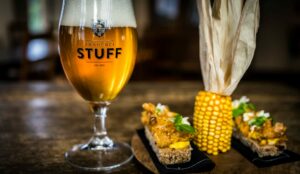 have a taste! Get them delivered to straight to your door!!