TASTE THEN SCAN : THE CONCEPT
We want to get people out of their comfort zone and push the boundaries of taste.
What sets a beer apart on a shelf or in a pub without the influence of marketing?
A blind tasting can address the basic appearance, aroma, mouthfeel, and flavour of a beer free from the shackles of marketing. The more you know about a beer, the harder it is to taste it objectively. 
We will launch one time batches of beer with a particular taste going in a radically different direction each time we release a new series.
Stuff Brauerei is offering a fun and unique experience to its customers by stripping its latest beer release from all labelling and product descriptions. Taste the beer, discuss with friends and scan the QR code to find out what it is!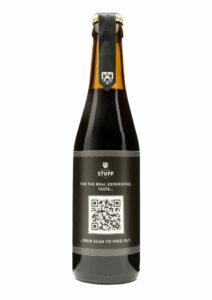 SERIES ONE, BATCH N°: 15/12/2021
A dry stout. With this beer, we want you to immerse yourself in how dry and bitter a beer can be. A spectacularly large cappuccino head with dry roasted taste. Aromas of dank hops, coffee and chocolate can be perceived.